Kiwi avoidance training for dogs
Dogs and kiwi should never meet. But just in case they do, kiwi avoidance training could help protect the kiwi.
Kiwi and dogs don't mix. All dogs, regardless of their size, breed, or temperament, have the potential to kill a kiwi.
The best option is to keep dogs on a lead and away from kiwi areas. But for dogs that need to go into areas where kiwi live, avoidance training is a tool that could help reduce the threat dogs pose to kiwi. 
Why is a dog so harmful to kiwi?
A kiwi's skeleton is very fragile. Just a gentle nudge from an inquisitive dog has the potential to crush its very delicate ribcage and internal organs.  
That's why Save the Kiwi is working hard to raise awareness that dogs have a critical and devastating impact on our kiwi populations. This could be avoided with the help of dog owners.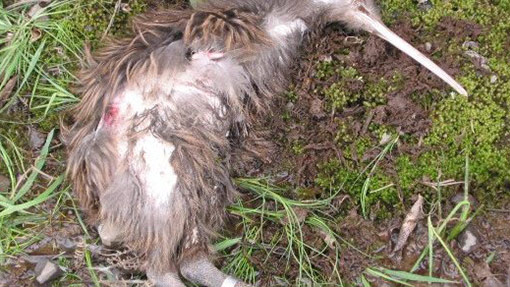 Kiwi avoidance training explained 
Before a dog can be trained to avoid kiwi, it must have been taught basic obedience so that it does what its owner asks. 
As part of the training, dogs are walked, usually not on a lead, past a few different props like a stuffed kiwi or kiwi nesting material. If the dog shows an interest in these objects, it gets a short sharp shock from the trainer, via a special collar. The dog quickly learns that these objects are something to stay away from. 
The dog is then walked past similar props and, if it avoids them, is certified as having shown consistent kiwi avoidance behaviour. Refreshers are held, usually after around 12 months, to make sure the dog remembers what it has learnt. 
However, kiwi avoidance training does not make a dog 'kiwi-proof'. It should only be used for 'dogs with jobs' such as hunting dogs or farm dogs that have to be in kiwi areas. Other dogs should not be taken into kiwi areas. 
Does kiwi avoidance training work? 
Kiwi avoidance training is not a silver bullet. Even after a dog has been trained, an uncontrolled or roaming dog may still attack a kiwi, especially if it is not regularly retrained. 
The best option is simply to keep dogs away from places wild kiwi live. If it is unavoidable to take a dog into a kiwi area, it should always be under control. In many cases this means on a lead, regardless of whether it has been avoidance trained. 
Find a kiwi avoidance trainer
Keen to get your dog kiwi avoidance trained? Certified kiwi avoidance trainers are located all over New Zealand; contact your nearest one for more details about future training days.
027 483 7050
office@goodwoodaotearoa.nz
(email preferred way of contact)
Lesley Baigent
(Certifier no. 2)
09 408 7800 or 09 408 6014  baigentsnz@gmail.com
Jason Hanham and Wallis Cocks
(Certifier no. 3)
Liz Whitwell
(Certifier no. 9)
07 867 9080
lwhitwell@doc.govt.nz
Malcolm MacFarlane
(Certifier no. 10)
027 235 8424 or 07 868 9912
Christine Friis
(Certifier no. 11)
07 867 9080
cfriis@doc.govt.nz
Sheila Westley
(Certifier no. 40)
021 716 514
avertmydog@projectkiwi.org.nz
There is currently no trainer in the Auckland Region.  Please contact Guus Knopers or Malcom Macfarlane.
Guus Knopers
(Certifier no. 13)
027 5927 737 wildlifecontractorsnz@gmail.com
Te Puke/Western Bay of Plenty
Tiki Hutching
(Certifier no. 14)
07 325 2142 or 027 809 8185
thutching@doc.govt.nz
Andrew Glaser
(Certifier no. 15)
07 315 1001
aglaser@doc.govt.nz
Tim Allerby
(Certifier no. 19)
07 312 9659
tim.a@ngaituhoe.iwi.nz
Tom Brown
(Certifier no. 41)
027 359 0146
66waimana@gmail.com
Hawkes Bay, Taranaki & Central North Island
Willie Marsh
(Certifier no. 21)
06 376 5155, 027 3858191 or 06 834 3111 (DOC Napier)
willymarsh@inspire.net.nz
06 349 2100
whanganui@doc.govt.nz
Paul Drought
(Certifier no. 34)
027 287 6772
paul-drought22@hotmail.com
Jared Coombes
(Certifier no. 35)
06 759 0350 or 027 2159 199
jcoombes@doc.govt.nz
Joe Carson
(Certifier no. 37)
027 577 3869
jcarson@doc.govt.nz
Paul Prip
(Certifier no. 43)
027 522 2303
Ecotechnz@hotmail.com
Blake Cole
(Certifier no. 38)
022 3422 191
blakejet@gmail.com
Jim Pottinger
(Certifier no. 27)
021 259 8299 or 07 8922691
hunter4hire@windowslive.com
Central & Southern North Island
Dean Flavell
(Certifier no. 28)
027 360 4129
dean.flavell@xtra.co.nz
Joe Metekingi
(Certifier no. 44)
027 244 5224 or 07 895 8188
joe.metekingi@ruapehudc.govt.nz
South Island & Stewart Island
Sandra King
(Certifier no. 20)
03 2191102
paws4conservation@gmail.com
Anya Kruszewski
(Certifier no. 39)
027 591 2259
akruszewski@doc.govt.nz
Stephen (Billy) Barton
(Certifier no. 42)
021 022 77173
phoenixspbltd@gmail.com